Sep 21, 2017
When I started reading Nate Dern's new book, Not Quite A Genius, I was expecting a collection of comic personal essays, that being a popular format at the moment. I got that in pieces about being a minor reality television star and hipster vegetarianism, but I also got strange stories about insomnia and dream killers, a piece about the lifespan about a computer becoming self-aware and having an immediate existential crisis. Some of them are silly, some of them are political and pointed at subjects like anti-vaxxing and global warming. At times in Genius, Dern will open in first person, and you have to wonder if he's writing as himself or if we're going to find out a few paragraphs down that the narrator is a robot or a vampire. And it makes for a wonderfully disorienting transition from piece to piece.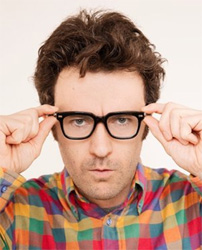 Dern is a writer first, a senior writer at Funny Or Die, but he's also an actor and a director – he's had walk on parts in Gossip Girl and Boardwalk Empire, and he directed some short films to promote the book as he was writing it and appears in some Funny Or Die shorts. You can see one of those next month in the Department of Tangents Second Annual Daily Horror Film Fest. Dern is also a stand-up comedian and an improviser, and was formerly Artistic Director at the Upright Citizens Brigade Theater in New York. He's been a lot of things, but before starting work on the book, he was not a personal essayist. In this interview, he mentioned how he wrote these essays at the request of his editor. Now he's hooked, so don't be surprised if you see more of that from him in the near future. If that doesn't appeal to you, you can ask to read the dissertation he's working on at Columbia, part of his plan to eventually land a teaching job.
After the interview, stick around for a new track from Corin Ashley, next week's podcast guest, from his new album Broken Biscuits. Ashley recently stopped by the newly constructed Podcast Kitchen in Lynn, Ma to talk about the album and his experience as a stroke survivor. The track is called "Magpie Over Citadel," and you can find the album on iTunes and wherever you buy good music.